MORE CONTENT COMING SOON!
HOW TO TRIM NAILS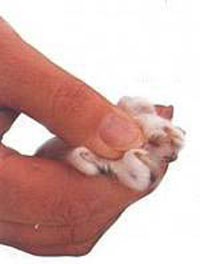 Avoid the quick when you trim the claw; cutting into it will cause pain and bleeding.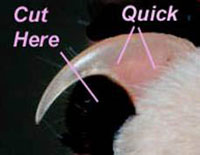 If you find that the nail is rough after trimming, use a file to smooth out the edges. Special claw trimmers are available from veterinarians or pet supply stores, but sharp pediatric nail clippers for humans work just as well.
Internal anatomy of a cat: carnivorous mammal of the feline family, with retractile claws.
There are both wild and domestic varieties.
Encephalon: seat of the intelluctual capacities of a cat.
Lung: respiratory organ.
Spinal column: important part of the nervous system.
Stomach: part of the digestive tract between the esophagus and the small intestine.
Kidney: blood-purifying organ.
Colon: large intestine.
Small intestine: last part of the digestive tract.
Testicle: sperm producting sexual organ.
Bladder: pocket in which urine collects before it is elimitated.
Spleen: hematopoiesis organ that produces lymphocytes.

Liver: bile-producing digestive gland. Heart: organ that pumps blood.
Trachea: tube carrying the air to the lung.
Esophagus: first part of the digestive tract.

Tongue: taste organ of a cat.
Oral cavity: chamber of the mouth.
Nasal cavity: chamber of the nose.
Larynx: part of a cat's throat that contains the vocal cords
THE FELINE MOUTH AND CARE
Check your cats mouth regularly. What are you looking for?
1.   Healthy pigmented (often pink) mucosa. eg the skin of the mouth
2.   Clean white teeth, evenly spaced, with correct number of teeth, see images below.
3.   the mouth should be moist.
4.   Check for blood, pus, of foreign object. Often the first signs of this are : loss of normal appetite, drooling, foul smell to the breath, pus and or blood.
Go Here to see how to open your cats mouth:http://www.wikihow.com/Open-a-Cat%27s-Mouth